Summer brings heat waves, watermelon, and fun in the sun. It also brings a lot of questions about sunscreens. I've talked about how to pick a sunscreen. Today, I'm sharing some of my top picks with you.
When I look for a sunscreen, I look first for a mineral filter. I prefer physical blocks like titanium dioxide and zinc oxide for several reasons. Mineral sunscreens protect your skin from UV damage, and they are also anti-inflammatory. Zinc oxide is the primary ingredient in diaper cream; it's known to reduce redness and soothe irritation. Mineral sunscreens are also less likely to cause reactions, so I always recommend them for my sensitive or allergic clients. Mineral sunscreens have a tendency to be thicker, so I know that an oily skin type is going to want a lighter texture. Sometimes you'll need to go a chemical filter in this case. Remember, the best sunscreen is the one you'll use!
My first pick is
the True Natural All Natural Sunscreen SPF 30
. I've linked to the one for baby, but there are several available. I stumbled onto this one at the drugstore one day, and I've recommended it ever since. It has a pure mineral sunscreen, and the rest of the ingredients are a blend of truly natural ingredients. It's moisturizing enough to be an all-in-one product.
Who will love it: Dry skin types, natural skin types, sensitive skin types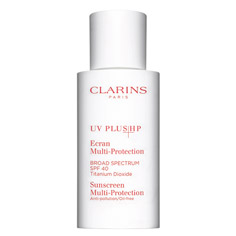 The
Clarins UV Plus Day Screen SPF 40
 is a classic bestseller, and for good reason. It is super lightweight, but still a 100% mineral sunscreen. It absorbs quickly and can be used over any daytime product, from serums to moisturizers. Clarins claims to be a botanically based line, and that bothers me because they really aren't. But if you're looking for a lightweight sunscreen, this does the trick.
Who will love it: Oily skin types, people who want lightweight textures
I mentioned this one in my summer essentials post, but I'm bringing it up again because I just like it that much. My favorite sunscreen touch-up product is the
bareMinerals SPF 30 Natural Sunscreen.
Sunscreens are only effective when used properly, and proper use means regular reapplication. This is a great way to touch up your sunscreen and mattify oiliness without budging your makeup. The brush is softer than most of the other powder sunscreens on the market, so it's much nicer for sensitive skin.
Who will love it: Makeup wearers who want to reapply, oily skin types
I really love my BB cream. I've been using the
Boscia B.B. Cream
 that features an SPF 27 in a mineral filter. It's got a tint to it, so you get coverage and complexion evening all in the same step. It also has treatment benefits; it has licorice root extract and arbutin to help with pigmentation. It also has ingredients that act as a skin primer, so it smooths texture and fine lines. I wear mine almost every day. It's lightly hydrating, but dry skin types will still want to use  a moisturizer.
Who will love it: Girls on the go who still want to look polished
Do you have a favorite sunscreen? Tell me about it in the comments!
See a product here that you think would work for you? I earn a commission and you help to support this blog if you use the affiliate links provided. But your trust is important to me, and I'd never recommend something that I haven't used or didn't like. Read my disclaimer.